Skirting boards are a vital contributor to the look of every interior.
The important thing, however, is not only their appearance but, most importantly, their functionality.
How to select skirting boards that perform both the decorative and masking function?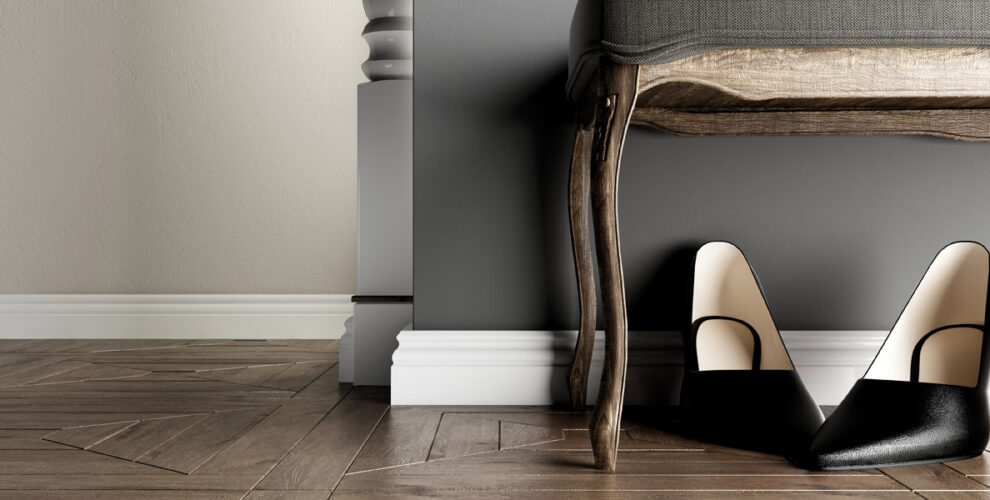 How to select skirting boards?
1. Size
There are several available sizes of the boards, which means that choosing the right size should be one of your first decisions.
Before you do this, however, you should consider your installation options, e.g., the height at which the electrical sockets have been installed. If they are low above the floor, it will be very difficult or even impossible to install tall boards. After all, how can your space look neat with openings for the sockets cut out in the boards? In such a situation, you should carefully measure the distances and select narrow boards, which can be installed easily.
You should also remember that the size of the boards can have a positive or negative effect on the proportions of your interior. If your room is small, pick boards in the smallest possible size to make them seem flush with the floor. In more spacious premises, you can go with tall boards, which will look great in such a setting.
2. Colour
What colour should your boards be to prevent your space from looking chaotic?
We have a few safe options.

– To visually extend and enlarge the floor, pick boards in the same colour. Remember, however, that this will optically shorten the walls, which is why you should not use this solution in rooms with low ceilings.
– To visually extend the wall, pick boards in the same colour. The INVADO range has boards that can be painted to any colour, which means that you are only limited by your imagination.
– Boards in the same colours as windows and doors. If your doors and windows are white, your skirting boards should be white as well. If your doors and windows are in a different colour, you should also select accordingly coloured boards. This will give your space a neat and consistent look.
– Contrasting boards, which are not matched with any of the above-mentioned items, are a strong highlight of any space in their own right. This is the most difficult colour to choose correctly, which is why you should be cautious when choosing this solution to avoid blunders.
3. Material
You can select boards made of plastic, MDF or wood. The first ones are the least expensive option, and they look fine when combined with floor panels.
MDF boards are more expensive, but they look better than plastic boards. They are thicker and may have various shapes milled into them. They can also be painted, which is particularly important if you want their colour to match the walls.
Wooden boards are the most expensive solution, and they will be the right choice for wooden floors.
4. Installation method
You can select boards that are installed permanently, which means that they cannot be dismantled and re-installed. If you want to dismantle them, you have to simply remove them and install new boards.
The INVADO range also includes multiple-installation boards, which can be used to conceal cables not only before they are installed but also when you add new equipment, along with the necessary connections, to your home after some time.